Kalpana's story
Fifteen year-old Kalpana married the man she loved, a rare act in rural Nepal where most marriages are arranged. They lived happily with Kalpana's parents until her husband tried to work abroad; the application process revealed his low caste. Dismayed, her parents ordered Kalpana to leave him. Instead she left them, once again challenging Nepali tradition.
Last year, after 6 years and 3 children, disaster struck the marriage. Pregnant with their 4th child, Kalpana found white patches on her arm, indicating leprosy. Terrified, she hid them from her husband. A neighbour advised her to visit LLHSC for treatment. Her husband found out, however, and banned her from touching their children.
'I love and care for my children,' she told LLHSC staff. 'I told my husband I would not stop to touch them. If he had to beat me, then so be it.'
Discovering that he too had leprosy, Kalpana's husband left her and their 3 children, one of whom is disabled. She had no job and no money. Heartbroken and alone, Kalpana faces the double stigma of leprosy and family disability.
Since the birth of her fourth child this year, with support from NLT UK and NLT Nepal, Kalpana has been treated, accommodated and cared for at LLHSC. Provision includes money for food, school fees and starting a small business. Kalpana dreams of further financial help to build her own home and support her family fully.
Hearing her story the couple from Ireland, one of whom visits Nepal regularly, have now bought land for Kalpana to build a house.  In summer 2016  house construction commenced for Kalpana and her children. Her Leprosy reaction is under control and she is now happy as can be seen in this image.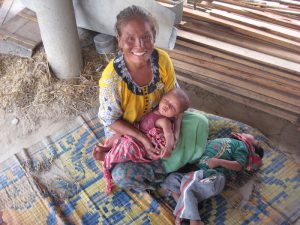 This beautiful young family can now not only survive but indeed thrive. Their lives are being transformed.